Back to Top
2016-17 IEFV Funded Projects
The Initiative to End Family Violence (IEFV) is pleased to support multiple grants utilizing innovative interdisciplinary approaches that target family violence. The 2016-17 funded projects are included below.
Interdisciplinary Research and Collaborative-Building Grants
Funding period: January 1, 2016 – January 1, 2017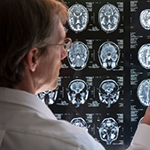 Modeling Brain Trauma in Children
Infants and children are often referred to emergency departments as a result of falls. Child abuse is suspected if a significant brain injury incurred from a short fall. Little is known how an impact actually affects the brain. A likely reason for this missing knowledge is that conducting scientific impact experiments in humans is unethical. Results of feasible animal experiments are difficult to carry over to humans. We plan to develop a computer-based system to simulate impacts onto a child's brain. Features of this system are that: (1) we use an exact structural model based on individual imaging data of a child's head; (2) we estimate the special mechanical properties of tissues in a child's head using a new, image-based technology; (3) we include relevant anatomical structures at a high resolution and estimated tissue properties in a precise biomechanical model, on which simulations are based. Medical doctors and researchers can use this system to simulate an impact onto the head at arbitrary positions and strengths, given the special head geometry and flexibility of a child's head. These studies may help to understand the consequences of a trauma on the structural and functional development of a child's brain, and possibly help estimating the cause of a fall.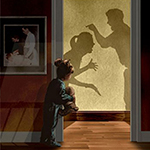 Exposure to Family Violence as a Primer for Anger, Stress, and Health Problems in Response to Subsequent Trauma
Exposure to family violence in childhood and intimate partner violence in adulthood is a global public health problem, the prevalence of which imposes substantial burdens on physical, psychological, and social well-being. Longitudinal studies of the downstream effects of family violence exposure are relatively rare, as prevalence research hinges largely on cross-sectional studies. Our interdisciplinary research team will use two nationally representative, large sample data sets, each involving repeated measures across multiple waves of data collection, to examine whether exposure to family violence in childhood increases the likelihood of adverse psychological and physical outcomes following exposure to intimate partner violence or other violent victimization in adulthood. The use of two nationally representative longitudinal samples and the combination of psychological and physical health markers can enable innovative statistical analyses to explore the role of anger as a potential intervening process – an outcome linked to childhood violence – that contributes to later victimization and health. Key criterion variables for our analyses are psychometric measures of depression, posttraumatic stress, anger, and physician-diagnosed physical health ailments, including anxiety and mood disorders. Protective factors against such stress sensitization will also be examined. Results from this innovative project may suggest the future inclusion of childhood domestic violence screening and brief anger assessments in primary health care settings.