Back to Top
Domestic Violence and Health Training for Medical Professionals
Domestic violence is extremely pervasive in our society and has numerous harms. Despite severe physical and psychological injury caused by domestic violence, scant attention has been paid to domestic violence as a health issue. To address gaps in knowledge, patient care, and response regarding domestic violence, the Cross-Disciplinary Training (CDT) for healthcare and social service providers is now available. 
The Cross-Disciplinary Training is designed to give healthcare and social service providers the tools needed to complete consistent domestic violence screening, counseling, and referrals. To this end, a team of UCI physicians and representatives from domestic violence agencies are jointly delivering on-site training to healthcare and social service providers and via the online modules below. The training will help providers:
Understand domestic violence and its impact on health
Screen and counsel for domestic violence in the healthcare or social service setting in a culturally sensitive manner
Understand and explain the limits of confidentiality
Comply with mandatory reporting laws
Access domestic violence resources and make referrals
Document screening, counseling, and related health issues in the medical record in a manner that respects patient privacy
Potentially be reimbursed for time spent screening and counseling
Cross-Disciplinary Training Modules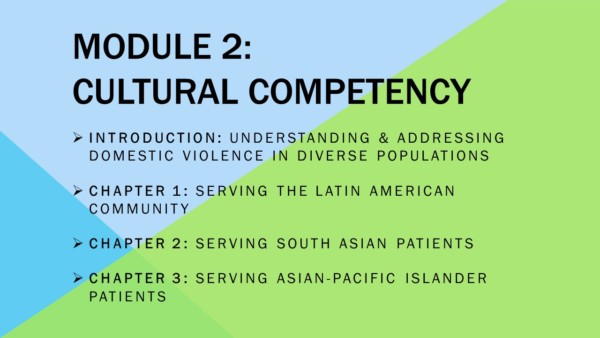 Introduction: Understanding & Addressing Domestic Violence in Diverse Populations
Chapter 1: Understanding & Addressing Domestic Violence in the Latin American Community
Chapter 2: SAHARA – South Asian Chapter
Chapter 3: Serving Asian-Pacific Islander Patients
Resources: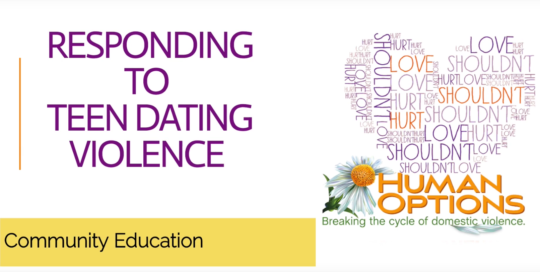 Watch The Video
Resources: 
Faculty Participants Include:

Jane K. Stoever

Clinical Professor of Law

Professor Stoever has extensive experience teaching domestic violence clinics and engaging in scholarship in the areas of domestic violence law, family law, feminist legal theory, and clinical legal theory.

In Professor Stoever's clinical teaching, she supervises law students representing clients in family law, immigration, and other legal and non-legal interventions into domestic violence. Professor Stoever began teaching as a Georgetown Clinical Teaching Fellow and Women's Law and Public Policy Fellow, where she taught in Georgetown University Law Center's Domestic Violence Clinic and was trained in clinical pedagogy. Prior to joining the faculty at UCI Law, Professor Stoever was a faculty member at American University Washington College of Law and Seattle University School of Law, where she taught Family Law and Domestic Violence Law and directed the Domestic Violence Clinic. Professor Stoever previously served as a judicial clerk, worked at legal aid offices and at a shelter for teenage girls, and was a live-in staff member at a shelter for homeless families. She graduated from Harvard Law School and received her LL.M. from Georgetown University Law Center. At Harvard Law School, she was a student attorney at the Harvard Legal Aid Bureau.

Professor Stoever's scholarly work focuses on the multiple oppressions domestic violence survivors face and explores ways that the law can better respond to complex experiences of intimate partner abuse. In addressing the interdisciplinary problem of domestic violence, her scholarship frequently brings together the worlds of law, public health, psychology, and survivors' lived experiences. Along with presenting her scholarship at numerous conferences, Professor Stoever organized and hosted an annual cross-disciplinary domestic violence symposium in Seattle from 2009-2012, with leading academics and audiences of over 400 participants. Professor Stoever has also been featured in Harvard Law School's Women's Rights Guide.

Julianne S. Toohey, MD

UC Irvine Health Physician

Professional Positions:
• Associate Clinical Professor, Department of Obstetrics & Gynecology, University of California, Irvine
• Scholar of the Dean's College of Medical Educators

Awards and Recognition
• Best Doctors in America® — Obstetrics and Gynecology, 2013, 2015, 2016
• Physicians of Excellence, Orange County Medical Association, 2006, 2007, 2012-2017
• WomanSage Award, 2004

Specialties:
Maternal & Fetal Medicine

Clinical Interests:
Depression during pregnancy, Domestic violence, Perinatology, Postpartum depression

Candace Burton, PhD

Assistant Professor, School of Nursing

Dr. Candace W. Burton is an Assistant Professor in the Sue and Bill Gross School of Nursing at the University of California, Irvine. She is a former domestic violence advocate and her research focuses on the biobehavioral and biological health effects of intimate partner violence, including genomic and epigenomic changes. Dr. Burton is a trained qualitative and mixed methodologist, and has published on intimate partner violence, young adult women's health, cultural stressors, social media in nursing, and women's reproductive health in the context of coercive and controlling relationships. She holds an undergraduate degrees in Studies in Women and Gender and in Nursing from the University of Virginia, and PhD from the University of California, San Francisco. Dr. Burton is certified by the American Nurses Credentialing Center in both Advanced Forensic and Advanced Genetics Nursing.

Genetics, trauma, intimate partner violence, women's health, adolescent and young adult health, relationships

Lisa M. Gibbs, MD

UC Irvine Health Physician

Professional Positions:
• Clinical Professor, Family Medicine
School of Medicine
• Chief, Division of Geriatrics and Gerontology
• Medical Director, Senior Health Center
• Director, Geriatrics Fellowship

Anesthesiology, elder abuse, elder neglect, dementia

Ray Novaco, PhD

UC Irvine Professor of Psychology and Social Behavior

Raymond W. Novaco, Ph.D., is Professor of Psychology and Social Behavior, at the University of California, Irvine.  He has extensive expertise on the assessment and treatment of anger with a variety of clinical populations, including those with a history of violence.  He pioneered cognitive-behavioral therapy for anger, coining the term "anger management", and the effectiveness of his treatment approach has been demonstrated in numerous scientific studies.  He developed procedures for anger assessment with mentally disordered persons; his anger measures been found to have significant value in predicting violence among psychiatric patients before, during, and after hospitalization, as reported in many independent scientific publications He received the Best Contribution Award in 1978 from the International Society for Research on Aggression for his book, Anger Control: The Development and Evaluation of an Experimental Treatment.  He received in 2000 the Distinguished Contributions to Psychology Award from the California Psychological Association, and, in 2009, he received the Academic Award from the Division of Forensic Psychology of the British Psychological Society. His co-edited book, "Using Social Science to Reduce Violent Offending" (Oxford University Press) received the 2013 "Best Book" Award from the American Psychology-Law Society.

His ongoing assessment and treatment research concerns severe anger in patients having serious clinical disorders, including war veterans with combat-related PTSD, assaultive psychotic patients at the high security forensic hospital in Scotland, developmentally disabled offenders at a forensic hospital in Northumbria, England, and hospitalized psychotic patients in the Northwest of England and in the Copenhagen region of Denmark. Among his other research interests is domestic violence, with projects conducted in Orange County, California, involving women and children in emergency shelters and in a specialized family justice center.  His scholarship interest in automobile commuting stress continues, having done the pioneering research on that topic.

He has been a consultant to numerous mental health, correctional, military, and human service agencies in North America, Europe, and New Zealand and presently serves as Honorary Research Consultant to The State Hospital Scotland and to the Scotland Forensic Network.  He has been on the Advisory Board of Atascadero State Hospital in California and on the Academic Advisory Board of Los Angeles County Jail Mental Health Services.  He has given numerous Keynote Addresses and Masterclasses on the assessment and treatment of anger and aggression at scientific conferences and for clinical professional organizations on five continents.

Anger, violence, stress, trauma, and interventions

Rachel Perry, MD

UC Irvine Health Physician

Professional Positions:
Assistant Clinical Professor — Department of Obstetrics & Gynecology

Specialties:
Obstetrics & Gynecology

Clinical Interests:
Adolescent health, Complex contraception, Family planning, Women's health

DOMESTIC VIOLENCE AGENCY PARTNERS FOR LIVE CROSS-DISCIPLINARY TRAINING AND ONLINE TRAINING MODULES
These training modules are part of the Domestic Violence & Health Collective – Orange County, which is funded by the Blue Shield of California Foundation and administered by the Orange County Women's Health Project, and of which the UCI Initiative to End Family Violence is a grant recipient.
Human Options

Marissa Presley

Community Educator

Marissa Presley has been doing community education for over eleven years. Her work hastaken her to numerous middle, high schools, colleges and universities, Sheriff Conventions, US Embassy in Mexico and various agencies. She has appeared on the Dr. Phil Show, Good Day LA, KISS FM, MSNBC, Telemundo and Univision News. She was co-investigator of a qualitative doctoral dissertation study on the development of psychological empowerment among women who had experienced domestic violence at The USC School of Social Work: Exploring the Development of Psychological Empowerment Among Survivors of Domestic Violence. She loves to dance, travel and roller skate.

Tanya Garcia

Community Education Supervisor

Tanya Garcia serves as the Community Education Supervisor at Human Options. She received her Bachelor of Arts degree in Liberal Studies from California State University Fullerton. Tanya has over 10 years of experience in working in youth development. After starting her career in after school program education she found her passion in serving at-risk youth. Tanya is certified in Gang Prevention through the Orange County Department of Education, and has taught many programs in various detention centers throughout Orange County. She is also certified in family planning, domestic violence advocacy, and gang prevention. In her current role as community education supervisor she is responsible for the further development of the community education department.

Jessica Reynaga

Community Education Manager

Jessica Reynaga serves as the Community Education Manager for Human Options, a domestic violence agency in Orange County.  Jessica leads the agency's prevention efforts by developing educational opportunities for youth audiences and "first responder" professionals. Jessica earned her Master of Social Work from USC, with a concentration in Community Organization, Planning and Administration, and a specialization with Military and Veteran Families.  While Jessica completed her graduate field work, she interned for Los Angeles Mayor Eric Garcetti's Office of Veterans Affairs and spent a year as a clinical intern at the Kaiser Permanente Watts Counseling and Learning Center.

Maricela Rios-Faust

Chief Executive Officer

As Chief Executive Officer, Maricela provides vital leadership, support and vision to the continued growth and success of Human Options, Inc. Since 2006, she has capitalized on her 20 year experience working with vulnerable populations and has been a key driver in Human Options, Inc. becoming the most comprehensive domestic violence service providers in Orange County. Her commitment comes from a desire to raise her daughter in a world where domestic violence is not tolerated. Maricela was named one of Orange County's Most Influential of 2014 for her leadership on increasing awareness of health impacts of domestic violence.
Laura's House

Margaret Bayeston

Chief Executive Officer

Margaret Bayston began volunteering in the legal advocacy department of Laura's House in January 1997 and hired in February 1998 as a legal advocate. She developed the Legal Department, hired additional staff after which was promoted to Operations Director in 1999. She accepted the position of CEO/Executive Director in September of 2001. Since that time Margaret has taken the agency to an operating budget of $4.2 annually. Under Margaret's tenure the agency has received many honors including Best Places to Work by the Orange County Business Journal, and the 2016 Guardian of Peace Award from the Hispanic Bar Association of Orange County.
Women's Transitional Living Center, Inc. (WTLC)

Gigi Tsontos

Chief Executive Officer

Gigi Tsontos received her Masters in Social work from Columbia University and a second Masters in Public Administration from San Diego State University. Gigi is experienced with victims advocacy and she has extensive program development and implementation knowledge, strategic management and planning experience, and diverse leadership education and understanding that catalysts her to the next stages of work. Gigi has engaged in revamping the model of our work to a full   family mobile model in an effort to impact survivors and decrease homelessness to our population.